Team Birchall travelled to Andorra last Sunday (26 November) to attend the 2017 FIM Awards ceremony. The Mitchells of Mansfield supported riders joined the other FIM World Champions at the event held at the Andorra Park Hotel in the Pyrenean Principality.

The Birchalls, along with team-members James Brindley and Tom Mitchell, rubbed shoulders with 35 fellow FIM World Champions and members from the FIM Team World Championships. Swapping their leathers for dinner jackets, the boys enjoyed an evening to remember relaxing and sharing stories with motorcycling royalty such as Marc Marquez, Toni Cairoli and Jonathan Rea.
Earlier in the day, the team had attended a fan signing session with the other world champions at the Centre de Congressos in Andorra before heading to the red-carpet and the awards ceremony where they picked up their medals for the 2017 FIM World Sidecar Championships.
A great end to an amazing year.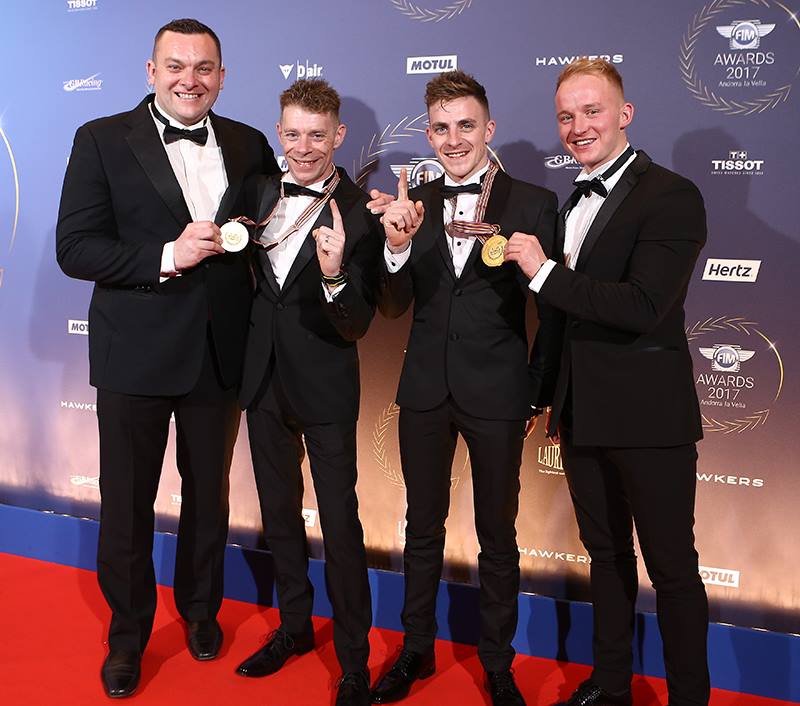 Ben Birchall: "What an amazing experience – I'm absolutely blown away by the whole weekend and how we were treated by the FIM during our time in Andorra. The country is incredible, its love for motorcycling is obvious and the awards couldn't have been held in a more beautiful location. To attend such a prestigious event, surrounded by other world champions is something I'll never forget. I feel honoured to be a world champion myself and the whole experience has only strengthened my desire to defend our title in the 2018 season."
Tom Birchall: "What an incredible event held in such a beautiful country. I want to say a massive thank you to the FIM for including us in the celebrations. It was awesome to be there with other riders such as Marc Marquez and Jonny Rea – as bike fans ourselves it was an honour and a privilege to be included in such company.
"With the capacity changes over the past couple of years in the Sidecar World Championships, I really think the FIM have made the right decisions and the championship is stronger than ever – we'll be back next year to hopefully retain the crown. I want to say a massive thank you to all our sponsors, friends, family and supporters, without whom this wouldn't be possible. 2017 was our best yet, but lets see if we can go even better next year."