Mitchells of Mansfield backed Birchall Racing have taken the Gold Race win at the famous Sachsenring circuit in Germany at round three of the 2018 FIM Sidecar World Championship.
In what proved to be a tricky weekend for the Mansfield based duo, hard work and determination paid off with a third place in Saturday's Sprint Race followed by a commanding victory in Sunday's Gold Race.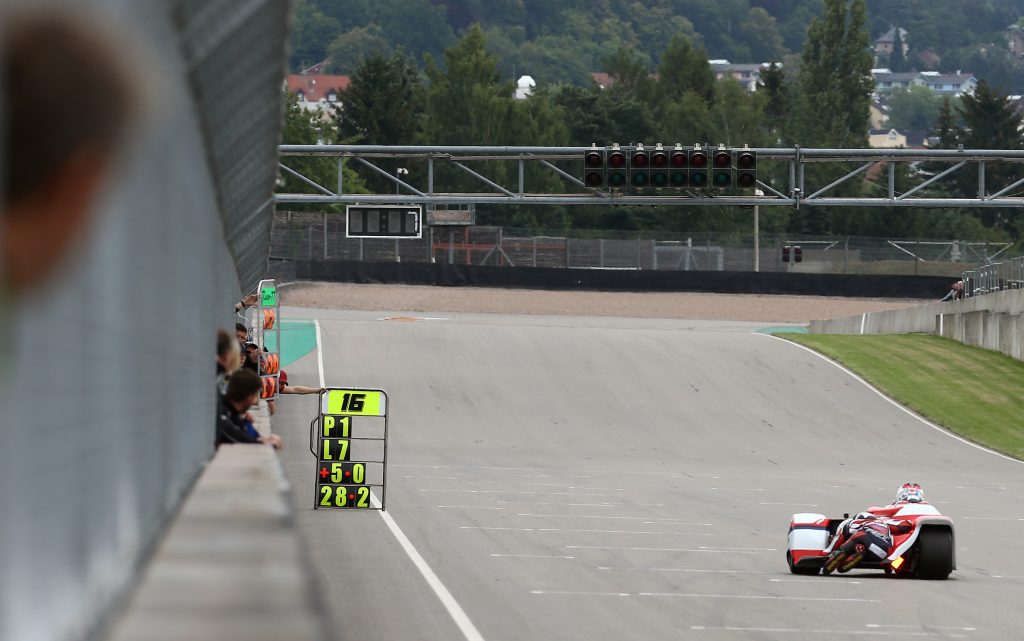 Heavy rain greeted the sidecar crews on arrival to the historic Sachsenring circuit on Friday for the first of the two qualifying sessions. With wet tyres the only sensible choice on the cold and saturated track, the Birchalls posted the third fastest time but hoped for better results on Saturday. The second qualifying session was held in the same horrendous conditions and the top three teams failed to improve on their original qualifying times set the day before.
The 12-lap Sprint Race also required the use of wet tyres – the rain had stopped but the track was still very damp and required the utmost care and skill to avoid any mistakes. Just a couple of laps into the race it was obvious to driver Ben Birchall that the set-up of their LCR Yamaha outfit was not ideal for the conditions. Despite the handling issues, Ben steered the sidecar home in third place, earning the pair valuable championship points.
Sunday dawned warm and dry at the Sachsenring circuit and left all sidecar crews with a difficult day ahead. With no dry track time from the whole of the weekend so far to produce data, set-up would be a combination of estimates and guesswork. Falling back to settings from the last time the FIM Sidecar World Championship was held at the German circuit in 2014, the Birchall brothers set out on their sighting lap. With a few more adjustments made prior to the start of the race, the Birchalls were unsure how the LCR chassis would perform on the long 19-lap main event.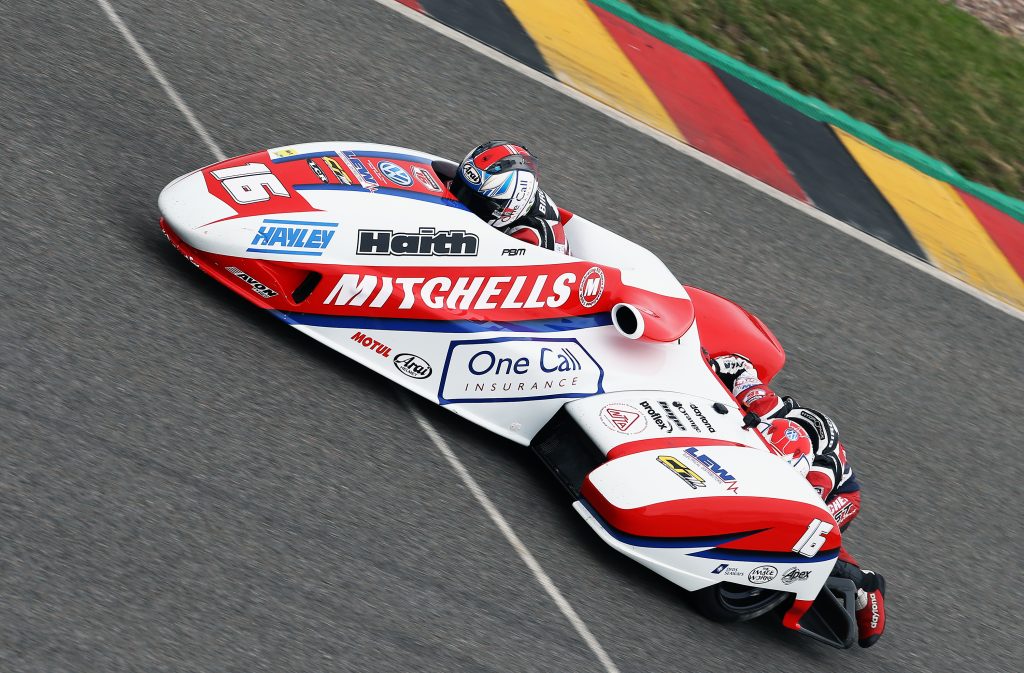 As it happened, the team need not have worried. Riding superbly and with the skill that has earned multiple world championship and TT wins, Ben steered his way through the field. Following a close battle with fellow Brit Tim Reeves, Ben decided to make the pass and take the lead. With the outfit handling perfectly the Birchall brothers were able to gap Reeves and the rest of the competitors by approximately one second per lap. At the end of the race, Birchall Racing crossed the line with a 10.848-second advantage.
The win enables the team to close in on the championship leaders in the overall standings as the 2018 season nears its halfway stage at next weekend's round four at the Pannoniaring in Hungary on June 30.
Ben Birchall: "That win felt really good – it was exactly what we needed to get our championship defence back on track. At the beginning of the weekend, in the wet conditions, we thought we had found a good set up and were planning on fighting for the win on Saturday's Sprint race. It wasn't until we got out on track that we realised the handling was off and we were suffering from some front-end understeer. I am pleased to have held on for the final spot on the podium but a little disappointed to be off the pace. Sunday was completely different. We took a risk by falling back to settings from 2014 but it paid off. The bike felt great and we were able to set our own pace and control the lead from the front. The lap times we were doing were on par with those we set in 2014, but back then we were running 1,000cc engines, so that's really encouraging. It has been a great weekend at a great venue but now we go straight to Hungary for round five and hope to close in on the championship leaders even further."
Tom Birchall: "That was a tough weekend for everyone I think. Ben rode really well, it was just a shame to struggle a little on Saturday. The Gold Race couldn't have gone any better, settings were great and the Yamaha motor was pulling really well. It's great to get another win and hopefully we can repeat the success next weekend in Hungary. I'd like to thank the team and everyone that supports us, without them success like this wouldn't be possible."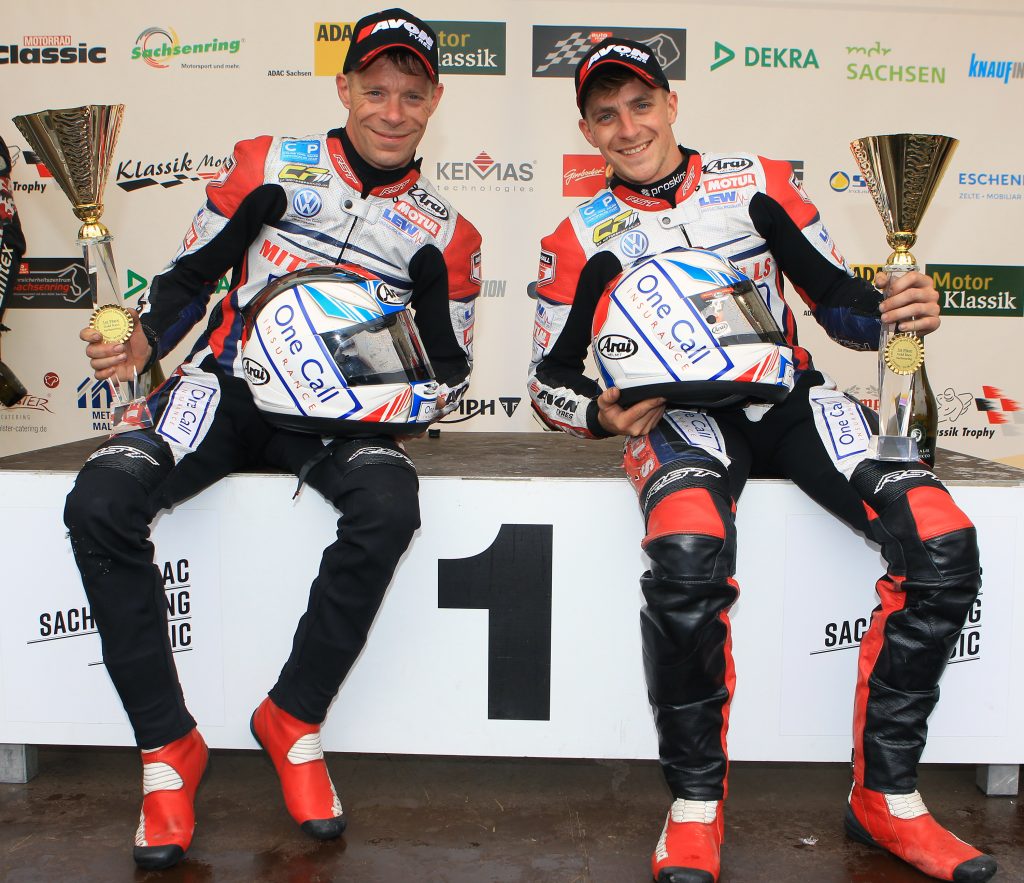 Results – 2018 FIM Sidecar World Championship – Round 3, Sachsenring, Germany
Gold Race – 19 laps
1. Birchall/Birchall, LCR Yamaha, 28:08.170
2. Reeves/Wilkes, Adolf RS Yamaha, 28:19.018 +10.848secs
3. Päivärinta/Vervainen, LCR Honda, 28:22.160 +13.990secs
Photo credit: Mark Walters